Alumni Profiles
Taking the road less traveled
Randy Velarde, ChE '81, took his engineering skills from UNM and applied them in an innovative and entrepreneurial way to achieve major success in the petrochemical industry
By Kim Delker - UNM Engineering Magazine
Randy Velarde grew up in Albuquerque and followed in the footsteps of his older brother, choosing the University of New Mexico to study chemical engineering. But rather than begin his career as an engineer, Velarde chose a different – and less obvious – route.
 "It was a high time for the petroleum industry when I graduated in the spring of 1981," Velarde said. "I had many job offers, most for an engineering position and one working on the commercial side; I chose the commercial job offer from Shell Chemical in Houston."
For the first few years, he worked for Shell in Cleveland, where he held a position in sales. After earning an MBA from Baldwin-Wallace College in Berea, Ohio, he was transferred to Houston by Shell and held various positions in marketing, business planning, and product management of what are known as the "downstream" products of oil — petrochemicals that are made from petroleum and natural gas. Such petrochemicals are used to make a wide variety of products used in the housing, automotive and construction industries.
 In 1990, Velarde joined Texaco Chemical as a business manager. Four years later, he made the big decision to form The Plaza Group, a specialty marketing firm focused on marketing refinery and petrochemical products produced at Texaco refineries as Texaco Chemical's assets were being sold to Huntsman. Within a few years, The Plaza Group became the exclusive distributor of the chemical products produced at these facilities in a long-term contract. Today, the company now has sales agreements with many of the industry's leading petrochemical producers, including Dow Chemical, Shell, Goodyear Chemical, Total, Versalis, Husky, Mitsui, and Alon Refining, among others.
Today, as has been the case for the past two decades, The Plaza Group remains in growth mode, as it continues to build its reputation as a multi-million dollar international chemical marketing firm. Last year alone, The Plaza Group was ranked among the top 15 North America Chemical Distribution Leaders, the Top 50 Chemical Distributors and one of the 50 largest private companies in Houston.
Velarde says The Plaza Group is a niche business that operates from a unique model. "We serve a vital and valuable purpose for many refiners and chemical producers, who would rather invest their time marketing their core products than marketing their by-products," he said. He credits the hard work of his highly capable and motivated team of 25 employees for maintaining The Plaza Group's many years of success. He is likewise optimistic for the future.
"I am absolutely energized by what we've achieved in just 20 years, about the many opportunities that still exist in our business and by how our fierce dedication to helping our customers perform at peak conditions has contributed to a strong and sustainable growth rate," he said.
Among his many career achievements, Velarde was appointed by former Secretary of Energy Bill Richardson to serve on the National Petroleum Council, and has been named Entrepreneur of the Year by both Hispanic Business magazine and the Houston Hispanic Chamber of Commerce.
Velarde continues to visit the UNM campus several times a year, especially in connection with his role as a board member of the UNM Foundation.
"My UNM Engineering degree provided me with a set of skills to approach challenges of all kinds, which has helped me tremendously in business and in life," he said. "I enjoy the connection I have with UNM and what I have received, and I look forward to giving back."
When not working, Velarde enjoys spending time with his four children and playing golf, hiking, traveling, and skiing.
2011 Grad returns to give seminar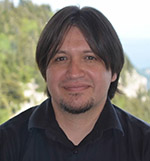 Nick Carroll, a 2011 CBE/UNM graduate, returned to campus Wednesday, October 28, 2015 to present a seminar for the CBE graduate student seminar series. Upon earning his Ph.D. degree with distinction, Carroll joined Professor Weitz's group at Harvard as a post-doctoral fellow. He is now with the Biomedical Engineering Department at Duke University as an Assistant Research Professor. Carroll's research focus is programming microfluidic and droplet systems at the building block stage for design of hierarchical biomolecular and biocompatible materials. These materials span the nano- to micro-scale, finding utility in bioanalytical and drug delivery applications.
The seminar "Programming the Assembly of Soft Materials" for more information about the seminar go to http://cbe.unm.edu/events/index.html
Carol Adkins of Sandia National Laboratories named a distinguished alumna by UNM's School of Engineering.
ALBUQUERQUE, N.M. — The director of Sandia National Laboratories' Energy Technologies and System Solutions Center has received a Distinguished Alumni Award from the University of New Mexico (UNM) School of Engineering.
"Carol h​as made extensive technical contributions in her career, for example, her work on supercritical carbon dioxide cleaning of wafers, for which she received a DOE (Department of Energy) commercialization award. She has led many organizations and programs at Sandia, including the Materials Science and Engineering Center and the Materials Science Foundation," said Joseph Cecchi, dean of the School of Engineering. "She has also been a leader outside of Sandia by serving on various National Academy boards and review panels. Her service to UNM as deputy campus executive and her dedication as chair of the advisory board to the department of chemical and biological engineering is also exemplary."
As deputy campus executive, Adkins helped author the Memorandum of Understanding between UNM and Sandia in July.
"The Sandia-UNM agreement would not have happened without her thoughtful and energetic stewardship," Cecchi said.
Adkins also led the effort by Sandia and UNM to hire Fernando Garzon, the first joint recruiting and hiring of a nationally recognized researcher.
"I care a lot about UNM," Adkins said. "It is the university in our community. For that reason, I think it is important to give back to it. It is to all of our benefit to make sure that we have a strong, vibrant university."
Adkins grew up in Albuquerque and graduated from UNM's chemical and biological engineering department. She received her Bachelor of Science degree in chemical engineering from UNM and earned her doctorate in chemical engineering from the California Institute of Technology.
The UNM Distinguished Alumni Award recognizes both professional accomplishments and outstanding community service. In her leadership role at Sandia, Adkins helps women succeed in their careers by volunteering as a mentor for Sandia's Women's Action Network.
Past Sandia recipients have included retired Sandia vice president Heinz Schmitt and Sandia researcher Sandra Begay Campbell.
---
Sandia National Laboratories is a multi-program laboratory operated by Sandia Corporation, a wholly owned subsidiary of Lockheed Martin Corp., for the U.S. Department of Energy's National Nuclear Security Administration. With main facilities in Albuquerque, N.M., and Livermore, Calif., Sandia has major R&D responsibilities in national security, energy and environmental technologies and economic competitiveness.
Sandia news media contact: Rebecca Brock, rabrock@sandia.gov, (505) 844-7772
(Photo by Randy Montoya).