Vanessa Svihla
Contact
vsvihla@unm.edu
Phone: 505 750-0263

Physical Address
Room 242
Zimmerman Library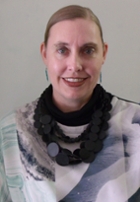 Associate Professor
Organization, Information & Learning Sciences
Research Group Website
Curriculum Vitae
Education
Ph.D, The University of Texas at Austin Science Education, 2009
M.S., The University of Texas at Austin Geological Sciences, 2003
B.A., Smith College, Geology and Russian, 1997
Biography
Dr. Vanessa Svihla is a learning scientist, meaning her research seeks to understand how  people learn. Her research focuses on:
How people learn when they design
Ways technology can embed authentic assessment without pausing learning
She is particularly interested in how people find and frame design problems, and how these activities relate to identity, agency, and creativity. She applies a range of research methods (regression modeling, network analysis, interaction analysis, data mining, design-based research) to understand learning in real world, interdisciplinary and Computer-Supported Collaborative settings.
Dr. Svihla was awarded the NSF CAREER award in 2018. Her project, Framing and Reframing Agency in Making and Engineering (FRAME) investigates a new construct, framing agency—having and taking opportunities to make decisions that are consequential to learning and designing. She investigates ways students can develop framing agency, why framing agency matters, and she creates tools for instructors who want to support their students to develop framing agency.
Teaching Interests
OILS 601. Advanced Instructional Design, Fall 2014, Fall 2016
OILS 543. Instructional Design, Fall 2014, Fall 2015, Fall 2016
Research Interests
Learning Sciences; Engineering Education; Design Learning; Project-Based Learning; Discipline-Based Education Research; Authentic Assessment; and Research Methods