Why Albuquerque?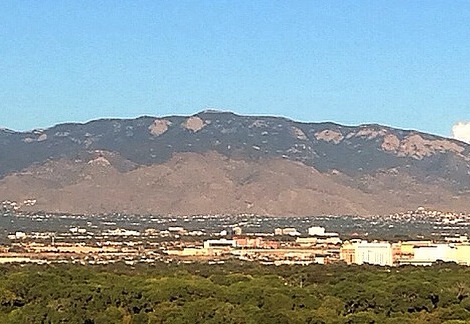 Albuquerque has a unique sense of place that you can feel the minute you enter city limits. With the dramatic Sandia Mountains to the east, volcanos to the west and vast blue skies above framing the city you can understand why Albuquerque's growth rate has exceeded the national average for decades.
The city's history begins with the Pueblo Indian people who farmed here for centuries before Spanish explorers arrived in 1540. Founded in 1706, Albuquerque was for decades a quiet villa named for a Spanish duke. By the time the railroad arrived in 1880, the "Duke City" was already a boom town.
Albuquerque really took off after World War II. The city invited the federal government to establish an aviation installation in 1939, which became Kirtland Air Force Base. Now occupying 80 square miles and employing some 25,000 employees, Kirtland has been an anchor of the Albuquerque economy, along with its tenant, Sandia National Laboratories.
Albuquerque boomed again in the 1980s, when such companies as Intel Corp. took advantage of a favorable business climate, an appealing quality of life and competitive incentives. The city's technology sector continues to be robust and growing.
RelocateAmerica selected Albuquerque as one of its TOP10 Recovery Cities for 2010: "During the 21st century, the Albuquerque population has continued to grow rapidly, with the city proper and metro area and this trend is expected to continue. At the center of New Mexico's Technology Corridor, with its dynamic renewable energy segment, new job creation and a driving business culture, Albuquerque's economy has a bright outlook."
For its wealth of activities and gentle weather, it's hard to beat Albuquerque
With over 300 days of sunshine a year, the Duke City is a great place of outdoor fun and activities.
Sandia Mountains: Flanking the city to the east, the 10,678-foot mountains offer skiing, hiking, biking, and picnic spots.
The Albuquerque International Balloon Fiesta: This, the largest ballooning event in the world, draws 800,000 visitors each year to enjoy watching hundreds of hot-air balloons rising in beautiful fall weather.
The ABQ BioPark: This imaginative and well-planned park includes a zoo, aquarium, botanic garden, and fishing beach.
Museums: Albuquerque museums include such diverse facilities as the Anderson-Abruzzo Albuquerque International Balloon Museum, Maxwell Museum of Anthropology, the Indian Pueblo Cultural Center, the Museum of Natural History and Science, the Albuquerque Museum, and Explora Science Center and Children's Museum. The spectacular National Hispanic Cultural Center includes art galleries and a performing arts center.
Recreation: Albuquerque offers 800 parks, more than 80 miles of running and biking trails, 220 outdoor tennis courts, 23 ball fields, and year-round golf on 15 golf courses.
Sports: Games of the University of New Mexico Lobos are legendary for their color and fan devotion. The city also has a professional soccer team, the Sol, who had their inaugural season in 2014, and Triple-A baseball team the Albuquerque Isotopes.
Albuquerque and the Arts
Albuquerque is flourishing as an arts center.
Dozens of performing arts venues offer everything from classical music to flamenco, opera to musicals, and traditional and experimental theater.
Albuquerque has more than 40 art galleries.
The city and county have added hundreds of pieces of public art valued at millions over the last 20 years.
Some 250 arts organizations serve the metro area. Of those, 45 are guilds.
More than 400 artisan manufacturing companies produce furniture, jewelry, pottery, clothing and textiles. Albuquerque is one of six jewelry-producing centers in the nation.
UNM's Popejoy Hall welcomes touring Broadway shows every season and host many other shows that include ballet, acrobatics, and the spoken word.
Fun links about Albuquerque