ABET Accreditation
The BS Chemical Engineering Program is accredited by the Engineering Accreditation Commission (EAC) of ABET, http://www.abet.org.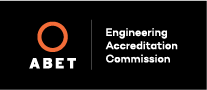 415 North Charles St
Baltimore, MD 21201
telephone: (410) 347-7700
Chemical and Biological Engineering Educational Objectives
Graduates of the chemical engineering program at the University of New Mexico will be able to: 
Meet or exceed the expectations of their professional position.

Successfully pursue advanced study in a graduate or professional program.

Assume leadership roles in their professions and/or communities.
Chemical and Biological Engineering Student Outcomes
By the time our graduates complete the chemical engineering program, they will have successfully demonstrated the following:
(a) an ability to apply knowledge of mathematics, science and engineering to chemical engineering problems.
(b) an ability to design and conduct experiments, and analyze and interpret data.
(c) an ability to design processes, systems or components to meet desired needs and subject to realistic constraints, such as economic, environmental, social, political, ethical, health, safety, manufacturability, and sustainability.
(d) an ability to function on multidisciplinary teams.
(e) an ability to identify, formulate and solve engineering problems.
(f) an understanding of the professional and ethical responsibilities of engineers.
(g) an ability to communicate effectively.
(h) an understanding of the global, economic, environmental and societal impacts of engineering activities.
(i) a recognition of the need for lifelong learning and awareness of how this can be achieved in their subsequent career.
(j) a knowledge of contemporary issues.
(k) an ability to use modern techniques, skills and engineering tools to address problems encountered in engineering practice.
Chemical Engineering Enrollment and Graduation Data
| | | | | | | | | | | | | | |
| --- | --- | --- | --- | --- | --- | --- | --- | --- | --- | --- | --- | --- | --- |
| Undergrad Enrollment | FA 04 | FA 05 | FA 06 | FA 07 | FA 08 | FA 09 | FA 10 | FA 11 | FA 12 | FA 13 | FA 14 | FA 15 | FA 16 |
| Chemical & Biological Engineering | 47 | 44 | 48 | 56 | 58 | 64 | 75 | 77 | 78 |  103 | 129 | 155 | 324 |
| | | | | | | | | | | | | |
| --- | --- | --- | --- | --- | --- | --- | --- | --- | --- | --- | --- | --- |
| Bachelor's Degrees | 04-05 | 05-06 | 06-07 | 07-08 | 08-09 | 09-10 | 10-11 | 11-12 | 12-13 | 13-14 | 14-15 | 15-16 |
| Chemical & Biological Engineering | 15 | 13 | 11 | 17 | 18 | 13 | 19 | 25 | 19 | 33 | 31 | 40 |
| | | | | | | | | | | | | | |
| --- | --- | --- | --- | --- | --- | --- | --- | --- | --- | --- | --- | --- | --- |
| Master's Enrollment | FA 04 | FA 05 | FA 06 | FA 07 | FA 08 | FA 09 | FA 10 | FA 11 | FA 12 | FA 13 | FA 14 | FA 15 | FA 16 |
| Chemical & Biological Engineering | 27 | 20 | 19 | 18 | 9 | 11 | 13 | 7 | 8 |  10 | 6 | 8 | 15 |
| | | | | | | | | | | | | |
| --- | --- | --- | --- | --- | --- | --- | --- | --- | --- | --- | --- | --- |
| Master's Degrees | 04-05 | 05-06 | 06-07 | 07-08 | 08-09 | 09-10 | 10-11 | 11-12 | 12-13 | 13-14 | 14-15 | 15-16 |
| Chemical & Biological Engineering | 6 | 7 | 4 | 5 | 8 | 5 | 5 | 3 | 5 | 6 | 1 | 3 |
| | | | | | | | | | | | | |
| --- | --- | --- | --- | --- | --- | --- | --- | --- | --- | --- | --- | --- |
| Doctoral Degrees | 04-05 | 05-06 | 06-07 | 07-08 | 08-09 | 09-10 | 10-11 | 11-12 | 12-13 | 13-14 | 14-15 | 15-16 |
| Chemical & Biological Engineering | 3 | 7 | 4 | 3 | 8 | 5 | 7 | 5 | 5 | 7 | 3 | 2 |
| | | | | | | | | | | | | | |
| --- | --- | --- | --- | --- | --- | --- | --- | --- | --- | --- | --- | --- | --- |
| PhD Enrollment | FA 04 | FA 05 | FA 06 | FA 07 | FA 08 | FA 09 | FA 10 | FA 11 | FA 12 | FA 13 | FA 14 | FA 15 | FA 16 |
| Chemical & Biological Engineering | 29 | 31 | 35 | 37 | 35 | 34 | 31 | 24 | 19 |  15 | 13 | 13 | 18 |