Conferences and Workshops
Science and engineering professional organizations offer scholarships for college members, and mentors for those in the interning or entry-level position. They offer insight into how the industry works and how to navigate it, as well a professional development courses.
The faculty in Chemical & Biological Engineering are active in a variety of professional organizations affiliated with their research interests. Not only are they active but are involved with organizing conferences and workshops.

Abhaya Datye • co-chair for NAM25
The biennial meeting of the North American Catalysis Societyconvened June 4 - 9, 2017 in Denver. This year's meeting had 1525 attendees, a record.  https://nam.confex.com/nam/2017/meetingapp.cgi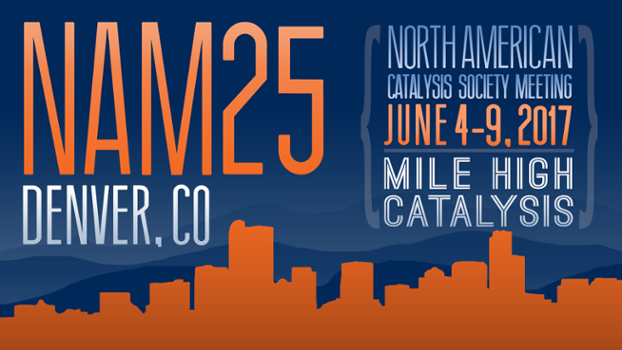 The North American Catalysis Society was founded in 1956 to promote and encourage the growth and development of the science of catalysis and those scientific disciplines ancillary thereto; to provide educational services to members and other interested individuals; to organize and participate in professional meetings of scientists; to report, discuss and exchange information and viewpoints in the field of catalysis; to serve as a central exchange for the several catalysis clubs concerning information on their activities; and to provide liaison with foreign catalysis societies, with the International Congress on Catalysis, and with other scientific organizations and individuals.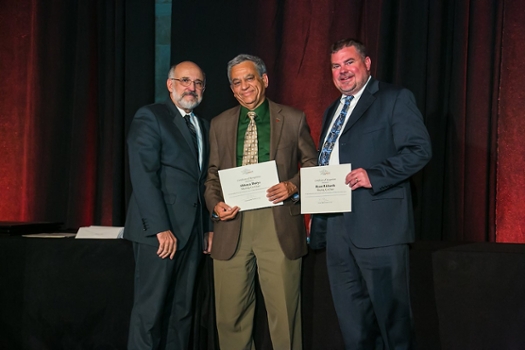 Abhaya Datye and Ryan Richards (co-chairs) receiving a certificate of appreciation from Enrique Iglesia, President of the NACS.

Plamen Atanassov, co- chair for 68th Annual Meeting of the International Society of Electrochemistry
The IAE annual meeting met in Providence, RI, USA, August 27 - September 1, 2017. http://annual68.ise-online.org/program.pdf
The International Society of Electrochemistry was founded in 1949 by leading European and American Electrochemists to serve the growing needs of electrochemistry in becoming a modern scientific discipline. At that time only a handful of experts were assembled in the original CITCE (Comité International de Thermodynamique et Cinétique Electrochimiques). Since then the association has evolved and now comprises about 3000 individual members and more than 20 Corporate Members (teaching institutions, non-profit-making research organizations and learned societies) and Corporate Sustaining Members (industrial and commercial organizations). Its membership comes from more than 70 countries and is organized in over 40 regional sections. Both industrialized and developing countries from all five continents are represented. ISE is, therefore, a truly world-wide organization. ISE is a non-profit-making organization with its seat in Lausanne, Switzerland.