Graduate Program in Chemical Engineering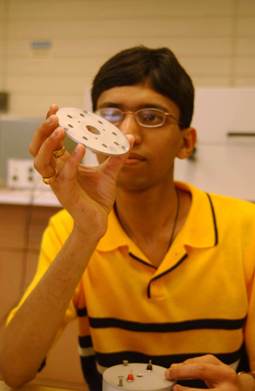 Degress offered
The department of Chemical and Biological Engineering at UNM offers an MS in Chemical Engineering and a PhD in Engineering with a Chemical Engineering concentration. 
Research Areas
The department has a variety of established research programs in chemical, biological, and materials engineering. These include:
Nano- and Biomaterials Synthesis
Ceramics
Bioanalytical Micro- and Nanosystems
Tissue Engineering
Catalysis
Fuel Cells
Optoelectronics Materials
Interfacial and Transport Phenomena
See the faculty directory for more details. 

Faculty
The department currently houses fifteen faculty in Chemical Engineering. 

Research Facilities
Research facilities within the department available to graduate students include:
Chemical Reactors (Berty, Packed Bed)
Autoscan-33 Mercury Porosimeter
Autosorb-1 Sorption Analyzer
Sedigraph Particle Sizer
Coulter Counter
ASAP2000 Sorption Analyzer (2)
VTI 100 High Pressure Absorption Analyzer
Scanning and Transmission Electron Microscopes
Chemisorption in-situ IR Spectroscpopy
UHV Chambers for Surface Science Experiments
Plasma Etching Equipment
Semiconductor Fabrication/Characterization Equipment
A Process Control Laboratory
Fossil Energy Characterization Instrumentation and a Scattering Facility, including 2 Rotating Anode Generators
Kratkey, Pinhole, and Bonse-Hart Optics for SAXS, 1800 XRD
2 light scattering Set-ups
Other equipment is available in the department for diffusion/absorption measurements, solar research, phase equilibria and biomedical research.
Graduate students also have access to resources available through our associated centers and affiliated research facilities. 

Contacts
Sarah E. Dominguez (Kieltyka), Coordinator of Program Advisement at 505 277.5606, located in Farris Engineering Center 209
Dr. Elizabeth Dirk, Assistant Professor and Graduate Advisor at 505 277.5906, located in Centennial Engineering Center 2055