Andrew P. Shreve
Contact
shreve@unm.edu
Phone: (505)-277-4939
Fax: (505) 277-1979

Physical Address
Room 2053
Centennial Engineering Center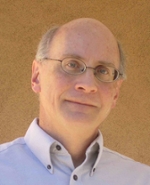 Regents' Professor
Department of Chemical and Biological Engineering
Research Group Website
Curriculum Vitae
Education
Ph.D., 1991, Cornell University, Physical Chemistry
M.S., 1986, Cornell University, Physical Chemistry, Theoretical Chemistry minor.
B.S., 1983, West Virginia Wesleyan College, Chemistry major, Mathematics minor.
Biography
Following postdoctoral training as a National Institutes of Health postdoctoral fellow at the University of California, Berkeley, I moved to Los Alamos National Laboratory as a J. Robert Oppenheimer Fellow, and subsequently a technical staff member, where I worked for a total of 18 years. At Los Alamos, I served in various scientific and technical leadership positions, most recently within the Center for Integrated Nanotechnologies (CINT), a Department of Energy (DOE) Nanoscience Research Center. In 2012, I moved to the University of New Mexico as Director for the Center for Biomedical Engineering, where my current research interests include development of optical-based methods for biomedical and biosensing applications, study of photophysical behavior of biological and nanostructured materials, and development of spectroscopic and optical instrumentation. I am committed to teaching and mentoring, with an emphasis on training students in the use of quantitative analysis and measurement methods in the study of biological systems, and am also engaged in translating research advances to real-world applications as exemplified by patents and industrial collaborations based on biological sensing and optical imaging technologies.
Recent Publications
Science Forum: Building a community to engineer synthetic cells and organelles from the bottom-up, O Staufer, JA De Lora, E Bailoni, A Bazrafshan, AS Benk, K Jahnke, Elife 10, e73556, 2021.
DNA binding by an intrinsically disordered elastin-like polypeptide for assembly of phase separated nucleoprotein coacervates, TD Pérez, A Quintana, JA De Lora, AP Shreve, GP López, NJ Carroll, Industrial & Engineering Chemistry Research 60 (48), 17408-17416, 2021.
Participation and Learning in Labs Before and During a Pandemic, M Wilson-Fetrow, V Svihla, AR Mashhadi, TL Mallette, AP Shreve, 2021 ASEE Virtual Annual Conference Content Access, 2021.
Building a community to engineer synthetic cells and organelles from the bottom-up, M Dogterom, KP Adamala, D Stefanovic, M Grunze, MR Lakin, JA De Lora, eLife, 2021.
Centrifugal Generation of Droplet-Based 3D Cell Cultures, JA De Lora, JL Velasquez, NJ Carroll, JP Freyer, AP Shreve, SLAS TECHNOLOGY: Translating Life Sciences Innovation 25 (5), 436-445, 2020.
Teaching Interests
Quantitative Biology
Optics, spectroscopy and imaging
Mathematical methods
Research Interests
Biological and soft nanomaterials
Spectroscopy and imaging
Optical-based sensing and diagnostics
Center/Laboratory/Program Affiliations