Eva Chi
Contact
evachi@unm.edu
Phone: (505)-277-2263

Physical Address
Room 2057
Centennial Engineering Center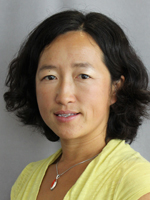 Associate Professor and Regents' Lecturer
Department of Chemical and Biological Engineering
Associate Chair
Research Group Website
Curriculum Vitae
Education
Ph.D. Chemical Engineering, University of Colorado, Boulder, CO (2004)
M.S. Chemical Engineering, University of Colorado, Boulder, CO (2001)
B.S. Chemistry and Chemical Engineering, University of California, Berkeley, CA (1999)
Biography
Research
Supra-biomolecular assemblies form the structural basis of life. They range from nanometer in length scale, for example, the thickness of lipid membranes, to micrometers, the lengths of microtubules that forms the cytoskeleton. They are chemically diverse, those building blocks include lipids, proteins, nucleic acids, and polysaccharides, and formidably complex. Our multidisciplinary research program is focused on understanding the underlying interactions that drive the structure, dynamics, and function of biomolecular assemblies. We are particularly interested in protein assemblies and their related biological consequences. For example, the misfolding and assembly of intrinsically disordered amyloid proteins into ordered fibrillar aggregates underlie the pathogenesis of a myriad of neurodegenerative disorders, including Alzheimer's and Parkinson's diseases. As the abnormal protein assembly process is believed to occur decades before the onset of symptoms, they are ideal biomarkers and therapeutic targets. We are working on developing novel molecular probes for sensing amyloid protein aggregates that can lead to early disease detection and intervention.
Professional Experience 
2015 - Present: Associate Chair and Director of Undergraduate Program, Department of Chemical and Biological Engineering • University of New Mexico, Albuquerque, NM
2014 - Present: Associate Professor, Department of Chemical and Biological Engineering • University of New Mexico, Albuquerque, NM
2008 - 2014: Assistant Professor, Department of Chemical & Nuclear Engineering and Center for Biomedical Engineering • University of New Mexico, Albuquerque, NM
2004 - 2008: Postdoctoral Research Fellow, Department of Chemistry and Institiure for Biophysical Dynamics • The University of Chicago, Chicago, IL
Selected Awards and Honors
UNM Women in STEM Award (2017)
Regents' Lecturer (2017)
School of Engineering Regents' Lecturer (2016 – 2019)
School of Engineering Junior Faculty Research Award (2014)
NSF CAREER Award (2012)
AVS Biomaterials Interface Division Young Investigator Award (2010)
Alzheimer's Association New Investigator Research Grant Award (2009)
Oak Ridge Associated Universities, Ralph Powe Junior Faculty Enhancement Award (2009)
NIH Ruth L. Kirschstein National Research Service Award (2004 – 2007)
American Institute of Chemists Graduate Award (2004)
NIH Leadership Training in Pharmaceutical Technology Fellowship (2003)
NSF Graduate Research Fellowship (2001 – 2004)
Professor Serge N. Timasheff Award – Excellence in Graduate Studies in the Field of Protein Stability Research (2003)
Selected Publications:
Danabedia PL, Creyer M, Monge FA, Schanze KS, Chi EY, Whitten DG, Detergent induced self-assembly and controllable photosensitizer activity of diester phenylene ethynylenes (2017), Proc Natl Acad Sci USA; 114(28):7278-7282.
Donabedian PL, Evanoff M, Monge FA, Whitten DG, Chi EY, Substituent, charge, and size effects on the fluorogenic performance of amyloid ligands: a small library screening study (2017), ACS Omega, 2 (7), pp 3192–3200.
Martin TD, Hill EH, Whitten DG, Chi EY, DG Evans, Oligomeric conjugated polyelectrolytes display site-preferential binding to an MS2 virial capsid (2016) Langmuir. 32(47):12542-12551.
Thapa A, Jett SD, Chi EY, Curcumin Attenuates Amyloid-β Aggregate Toxicity and Modulates Amyloid-β Aggregation Pathway (2016) ACS Chemical Neuroscience. 7(1), 56-68.
Invited book chapter: Chi EY, Excipients Used In Biotechnology Products, Excipients for Biologics, Editor Otilia Koo, John Wiley (2016).
Invited book chapter: Thapa A, Chi EY, Biflavonoids as potential small molecule therapeutics for Alzheimer's Disease, Natural Compounds as Therapeutic Agents for Amyloidogenic Diseases, Editor Neville Vassallo, Springer-Verlag (2015).
Donabedian PL, Pham TK, Whitten DG, Chi EY, Oligo (p-phenylene ethynylene) Electrolytes: A Novel Molecular Scaffold for Optical Tracking of Amyloids (2015) ACS Chemical Neuroscience 6 (9): 1526-1535.
Thapa A, Givler BC, Peña KDL, Soliz G, Moreno HA, López GP, Chi EY, Membrane-mediated neuroprotection by curcumin from amyloid- peptide induced toxicity (2013) Langmuir, 29(37):11713-11723.  
Research Interests
Biomolecular assembly
Protein structure and dynamics
Membrane biophysics and dynamics
Biosensor and theranostics development