William P. Bricker
Contact
wbricker@unm.edu
Phone: (505) 277-6392

Physical Address
Room 2051
Centennial Engineering Center

Mailing Address
01 1120
1 University of New Mexico
Albuquerque, NM 87131-1070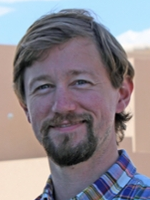 Assistant Professor
Department of Chemical and Biological Engineering
Research Group Website
Curriculum Vitae
Education
Ph.D. Washington University, St. Louis, MO, Energy, Environmental & Chemical Engineering, 2014
B.S. Bucknell University, Lewisburg, PA, Chemical Engineering, 2007
Biography
Prof. William Bricker is a  Assistant Professor in the Department of Chemical and Biological Engineering at UNM, starting in the Fall of 2019. He received his Ph.D. in Energy, Environmental, and Chemical Engineering at Washington University in St. Louis, and his B.S. in Chemical Engineering at Bucknell University. As a Postdoctoral Associate in the Biological Engineering Department at MIT, he utilized computational chemistry to research novel synthetic excitonic devices using DNA as a scaffolding material, analogous to the natural biological light-harvesting complexes he studied during his Ph.D. tenure at Washington University. At UNM, he plans to develop computational tools to study efficient energy transport in biomaterials.
Professional Experience
2019  Assistant Professor, Chemical and Biological Engineering, University of New Mexico, Albuquerque, NM
2015 - 2019 Postdoctoral Associate, Biological Engineering, Massachusetts Institute of Technology, Cambridge, MA
Awards
2017 • Kaufman Teaching Certificate, MIT
2015 • Ph.D. Research Award, Washington University
Selected Publications
Computational investigation of the impact of core sequence on immobile DNA four-way junction structure and dynamics. MR Adendorff, GQ Tang, DP Millar, M Bathe, WP Bricker, Nucleic Acids Research (2021).

Rapid prototyping of arbitrary 2D and 3D wireframe DNA origami. H Jun, X Wang, MF Parsons, WP Bricker, T John, S Li, S Jackson, W Chiu, Nucleic Acids Research 49 (18), 10265-10274 (2021).

Engineering couplings for exciton transport using synthetic DNA scaffolds. SM Hart, WJ Chen, JL Banal, WP Bricker, A Dodin, L Markova, Y Vyborna, Chem 7 (3), 752-773 (2021).

Rapid Prototyping of Wireframe Scaffolded DNA Origami using ATHENA. H Jun, X Wang, WP Bricker, S Jackson, M Bathe, bioRxiv (2020).
Automated sequence design of 2D wireframe DNA origami with honeycomb edges. H Jun, X Wang, WP Bricker, M Bathe, Nature Communications 10 (1), 5419 (2019).
Research Interests
Light-Harvesting Biomaterials
Excitonic/Electronic Structure and Dynamics
Methods in Computational Chemistry