Abhaya K. Datye
Contact
datye@unm.edu
Phone: (505) 277-0477

Physical Address
Room 1330
Farris Engineering Center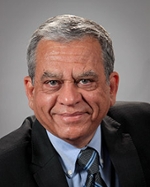 Distinguished Regents' Professor and Chair
Research Group Website
Curriculum Vitae
Education
Ph.D. University of Michigan, Chemical Engineering, 1984
M.S. University of Cincinnati, Chemical Engineering, 1980
B.S. Indian Institute of Technology, Bombay, Chemical Engineering, 1975
Biography
Abhaya Datye has been on the faculty at the University of New Mexico since 1984. Abhaya received his Ph.D. in chemical engineering from the University of Michigan. He has authored 230 publications, 6 patents and has presented 162 invited lectures around the world including the Europacat at Innsbruck, Austria, Faraday Discussion at Liverpool in the UK, WE Heraeus conference in Bad Honnef, Germany, the School for Electron Microscopy at Berlin and the Taniguchi conference in Japan. His published work has received ~13,000 citations with an h-index of 61 (Google Scholar). He is a fellow of the AIChE, the Microscopy Society of America and the Royal Society of Chemistry. He is involved in international collaborations, having led the successful NSF Partnership for International Research and Education (PIRE) on Conversion of Biomass derived reactants into Fuels, Chemicals and Materials (a collaboration between faculty and researchers in the US, Denmark, Germany, Netherlands and Finland). He has also done sabbaticals at BP in the UK, at Haldor Topsoe in Denmark and extended visits to the Univ. of Poitiers in France and he was honorary professor at the University of Witwatersrand in South Africa. He has been actively involved in the North American Catalysis Society, serving as co-chair for the Denver NAM 2017, program co-chair for the Snowbird NAM 1995. He was the Chair of the Gordon Research Conference on Catalysis in 2010.
Appointments 
Academics
The University of New Mexico, Albuquerque, NM. 87131
1/10 - Regents Professor
9/07 - Distinguished Professor
8/07 - Director, graduate program in Nanoscience and Microsystems
8/02 - 12/07 Associate Chair, Chemical & Nuclear Engineering
8/04 - 9/07 Site Director, Center for Ceramic and Composite Materials (CCMC)
9/00 - 8/02 Interim Assoc. Chair of Chemical and Nuclear Engineering
8/99 - 8/04 Executive Director, Center for Ceramic and Composite Materials (CCMC)
4/94 - Director, Center for Microengineered Materials (CMEM)
5/93 - 9/07 Professor of Chemical & Nuclear Engineering
5/90- 5/93 Associate Professor with tenure 
5/88- 5/90 Associate Professor
8/84- 5/88 Assistant Professor 
Industrial:
1976 - 78, Hindustan Organic Chemicals, Rasayani, India, Scientific Officer.
1975 - 76, Hindustan Lever Ltd., Research Center, Bombay, India, Research Assistant.
Sabbaticals and Visiting Appointments
University of Poitiers, Poitiers, France, Summer 2004, Visiting Professor.
University of Witwatersrand, Johannesburg, South Africa, Honorary Professor, 2003-present, Dept. of Chemistry.
Haldor Topsøe, Lyngby, Denmark, 1999, to apply advanced TEM techniques to the study of industrial heterogeneous catalysts
High Temperature Materials Lab Fellowship, 1994, Oak Ridge National Lab, to work on electron holography using the Hitachi HF 2000 FEG-TEM.
BP Research Center, Sunbury on Thames, UK, 1991 to work on in-situ and controlled atmosphere EM of catalysts
Honors and Awards:
NSF Industry University Cooperative Research Centers, 2008 Award for Excellence
Elected vice chair of the Gordon research conference on Catalysis, 2008 and chair, 2010
Best paper Materials Science, Microscopy and Microanalysis, 2006,
University of New Mexico
UNM Regents Professor, 2010
UNM Distinguished Professor, University of New Mexico, 2007
Senior Teaching Excellence Award, 2008 School of Engineering
Senior Research Excellence Award, 1998 College of Engineering
Junior Research Excellence Award, 1989, College of Engineering
Outstanding Teacher Award, 1988, Chemical & Nuclear Engr. Graduate students
Presidential Lectureship, 1986-88, Univ. of New Mexico
University of Michigan
Outstanding graduate student, 1982, Department of Chemical Engineering
Publications And Presentations:
220 journal publications, 71 conference proceedings, 6 book chapters, 1 book,  6 issued patents and 1 pending patent application and 140 invited talks
Invited Talks (140)
Publications (203, h-index 59)
12,365 citations (as recorded in the Web of Science)
Research Funding (Total $30,991,307.00 as Pi or Co-PI)
Recent Publications
Coordination structure at work: Atomically dispersed heterogeneous catalysts, Z Zhang, H Li, D Wu, L Zhang, J Li, J Xu, S Lin, AK Datye, H Xiong, Coordination Chemistry Reviews 460, 214469, 2022.
All the lonely atoms, where do they all belong?, JR Regalbuto, AK Datye, Nature Nanotechnology, 1-2, 2022.
Gas-Phase Hydrogen-Atom Measurement above Catalytic and Noncatalytic Materials during Ethane Dehydrogenation, SA Steinmetz, AT DeLaRiva, C Riley, P Schrader, A Datye, ED Spoerke, The Journal of Physical Chemistry C, 2022.
MgO (111) Nanocatalyst for Biomass Conversion: A Study of Carbon Coating Effects on Catalyst Faceting and Performance, RI Balderas, AE Settle, A York, DR Conklin, HN Pham, PC Metz, K Page, Catalysis Letters, 1-11, 2022.
Dehydroaromatization Pathway of Propane on PtZn/SiO2 + ZSM-5 Bifunctional Catalyst, CW Chang, HN Pham, R Alcala, AK Datye, JT Miller, ACS Sustainable Chemistry & Engineering, 2021.
Teaching Interests
NSMS 512 Characterization of Nanostructures
NSMS 595 Journal Club
ChNE 253 Chemical Engineering Calculations II
ChNE 461 Chemical Reactor Engineering
ChNE 561 Kinetics of Chemical Processes
ChNE 314L Chemical Engineering Lab I
ChNE 378 Structure and Interfacial Phenomena in Semiconductor Materials
ChNE 561 Kinectics of Chemical Proceses
ChNE 252 Introduction to Transport Phenomena
ChNE 311 Unit Operations
ChNE 575 Characterization of Solid-State Materials
ChNE 575 Transmission Electron Microscopy
ChNE 370 Introduction to Materials Science
ChNE 515 Catalysis and Surface Science
ChNE 501 Graduate Seminar
ChNE 451 Senior Seminar
ChNE 542 Graduate Thermodynamics
ChNE 442 Intro to Chemical Thermodynamics
Research Interests
Microengineered materials for catalytic applications, especially for conversion of biorenewables
Structure and properties of small metal particles in heterogeneous catalysts
Ceramic interfaces, thin films and coatings
Materials characterization by electron microscopy