Brinker, Willman to receive 2015 STC.UNM Innovation Fellow Award
April 16, 2015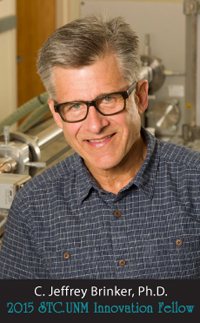 Brinker, Willman to receive 2015 STC.UNM Innovation Fellow Award
4-16-15-Two outstanding cancer researchers have been selected to receive the 2015 STC.UNM Innovation Fellow Award in recognition of their achievements as some of the University of New Mexico's leading innovators.
Distinguished and Regents' Professor and Sandia Fellow C. Jeffrey Brinker, and Professor and Cancer Center CEO Cheryl L. Willman have been selected for the award that will be presented April 20 at STC's 2015 Innovation Awards Dinner.
 The event also recognizes UNM faculty, staff and students who have received issued patents and registered copyrights/trademarks within the past year. In addition to receiving the Innovation Fellow Award, Willman will also receive an Innovation Award for an issued patent this year, and Brinker will receive an Innovation Award for four issued patents this year. 
On behalf of the entire STC.UNM Board of Directors, STC CEO Lisa Kuuttila said of Brinker: 
"Dr. Brinker is an outstanding scientist and inventor who is internationally known for his innovative technologies in advanced materials and who has pioneered the field of sol-gel processing.  His nanoparticle technologies, engineering marvels, have a broad range of applications but none more compelling than in the field of medicine.  His protocell technology, a specifically designed nanoparticle that carries cancer drugs to targeted cancer cells, represents the next generation of cancer treatment. As a distinguished professor in the Department of Chemical & Biological Engineering and a fellow (reserved for those Sandians recognized as pioneers in their fields) at Sandia National Labs, Dr. Brinker is the kind of inventor who achieves at the very highest levels of research and creativity.  The STC Board of Directors is honored to recognize him as a 2015 Innovation Fellow."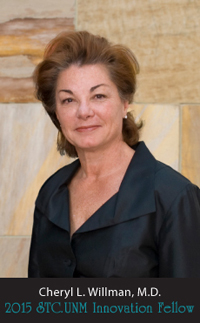 Of Willman, Kuutila said:
"Dr. Willman is a remarkable cancer physician and inventor who is doing cutting-edge research to find new ways to treat cancer.  She is an international expert in leukemia research, particularly acute lymphoblastic leukemia in children, and an innovator in discovering the underlying gene mutations in these cancer cells.  Dr. Willman's use of next generation genomic sequencing to find targeting therapies coupled with her collaboration with Dr. Jeffrey Brinker in developing the protocell, a nanoparticle designed to deliver cancer drugs to targeted cancer cells, will vastly improve cancer treatment for patients everywhere.   Her individual achievements are not the only thing remarkable about her.  Dr. Willman is also head of the UNM Cancer Center where her outstanding faculty are doing innovative research.  The STC Board of Directors is honored to recognize her as a 2015 Innovation Fellow."
Brinker grew up in Easton, Pennsylvania, and attended Rutgers University, where he received his B.S., M.S., and Ph.D. degrees in ceramic science. He joined Sandia National Laboratories as a member of the technical staff in 1979 and was appointed distinguished member of the technical staff at Sandia and national laboratory professor of chemical engineering and chemistry at the University of New Mexico in 1991. Since 1999, he has been jointly employed at Sandia, where he is one of four Sandia fellows and distinguished affiliate scientist at CINT (The Center for Integrated Nanotechnologies), and at UNM, where he is distinguished and regents' professor in the Department of Chemical and Biological Engineering, professor in the Department of Molecular Genetics and Microbiology, and member of the UNM Cancer Center.
As a clinical enterprise, the Cancer Center has been a success: it serves 60 percent of the adult and virtually all of the pediatric oncology patients in New Mexico.  Willman and her leadership team have recruited widely to build the Cancer Center's interdisciplinary and transdisciplinary research programs. Today, these include 125 faculty who are program members from UNM and our consortium institutions, supported by nearly $70 million in annual cancer research funding.  The Health Sciences Center is delighted that she is receiving this award."
Willman is also a professor of pathology and internal medicine in the Department of Pathology where she holds the Maurice and Marguerite Liberman Distinguished Chair in Cancer Research. Willman completed high school in Bettendorf, Iowa; received her B.A. in chemistry from St. Olaf College in Northfield, Minnesota; and her M.D. in 1981 from The Mayo School of Medicine in Rochester, Minnesota. Awarded one of the first NIH Physician Scientist Awards in 1984, Dr. Willman completed her residency and postdoctoral training in diagnostic pathology (with a specialty in blood cancers) and cancer research at the National Institutes of Health in Washington, D.C., UNM, and the University of Washington in Seattle.