Norman F. Roderick, Professor Emeritus Dies at 74
April 6, 2015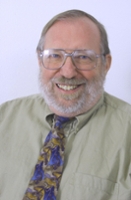 Norman Frederick Roderick, born October 24, 1940, passed April 6, 2015 of natural causes.
He is survived by his wife Judith, his daughter Heather Ginn, her husband Eric and grandson Zachary, his son Kevin and grandson Vaclav, his sisters-in-laws Diane Martin and family, Sandra Klink and family, his cousin Arlene Sidiqqi and family.
Norman was born in McKeesport, Pa. in 1940. He graduated from the United States Air Force Academy and received his Masters and PHD in Aerospace Engineering from the University of Michigan. He worked at the rocket test track at Holloman AFB, was a faculty member of the Department of Aeronautics at the US Air Force Academy, and was a faculty member of Chemical and Nuclear Engineering at the University of New Mexcio for over 30 years. He was a senior member of American Institute of Aeronautics and Astronautics (AIAA), a member of the American Nuclear Society (ANS), a member of the American Physical Society (APS), and a fellow of IEEE. He had a long, successful career in research and consulting in the Air Force, at UNM, Los Alamos National Labs and at Numberex, specializing in high-density plasma physics. He was blessed with a great life, family, friends and career.  
Norm led the nuclear engineering program through a particularly difficult time during the eighties and nineties and also served as Interim Chair of the ChNE department on a number of occasions. He was the consummate professional, a respected and dedicated faculty member who was much loved by students, and an outstanding teacher, researcher, and mentor. He also had a wonderful sense of humor. He will be greatly missed but fondly remembered.
In lieu of flowers the family asks that memorials be made to the University of New Mexico scholarship fund "Excellence in Nuclear Engineering"
Checks should be made payable to the UNM Foundation and on the memo line include "Excellence in Nuclear Engineering" in memory of Norman Roderick.
Please send checks to:
The University of New Mexico
School of Engineering Dean's Office
Attn: Betty Karlsson
MSC01 1140
Albuquerque, NM 87131