Stapleton receives NSF Graduate Fellowship
April 1, 2015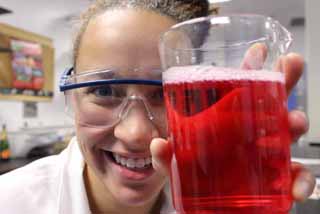 Lyndsay Stapleton, an undergraduate student in Chemical and Biological Engineering has received a graduate fellowship from the National Science Foundation.
She was also selected as the CBE Department's outstanding senior undergraduate award recipient for the annual University of New Mexico School of Engineering awards.
Stapleton has worked for Associate Professor of CBE Heather Canavan over the past two years. Her research has yielded six presentations to date, and will result in two publications. In one of the publications she is lead author.
"Her project, which grew out of a graduate student's dissertation work, focuses on understanding the underlying cause of why certain formulations of pNIPAM are cytotoxic in comparison to other deposition methods," Canavan said. "As such, her project has required that she develop expertise in surface modification and characterization, cell culture and biocompatibility assays, as well as mass spectrometry of the film extracts."
Stapleton has been supported by an Innovation to Maximize Student Development (IMSD) fellowship, and will finish her honors thesis this semester. The thesis will be submitted to the journal "BioInterphases."
Stapleton says she has loved working with Canavan over the past two years. "She has gone above and beyond for me and is the best boss, professor, and mentor I have ever had - probably the best I will ever have. She always has outstanding advice and is always open to talk. I would not have the opportunities I have today without her help, so, I am very thankful for Heather."
In addition to her academic and research achievements, Stapleton is president of the Biomedical Engineering Society, and has led a number of outreach events on their behalf for K-12 presentations.
She was a swimmer on UNM women's team and a senator with Associated Students of UNM until this past year, when she stepped down to focus on her research. Stapleton is a UNM Clauve Outstanding Senior Award in recognition for her academic and leadership abilities, and has been nominated to speak on our department's behalf at recent UNM functions. 
Stapleton plans to attend graduate school in the fall. To date, she been accepted to Harvard, Stanford, UW, UCSD, and UNM.
Canavan says Stapleton was one of three undergraduates to enroll in her Research Practices class last fall (CBE 502/BME 547), and received an A+ in this challenging course, on par with some second year graduate students.
"Lindsay is an outstanding representative of our department," said Canavan. "She is bright, articulate, and very kind. In a field where African American women are traditionally underrepresented, Lyndsay is excelling in her studies and research. She is one of the most talented undergraduates I have worked with in my 10 years at UNM, and I believe she deserves the recognition of this award."