UNM student receives prestigious Goldwater Scholarship
April 8, 2016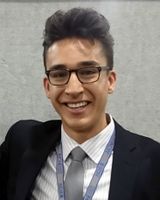 Founded in recognition of U.S. Senator Barry M. Goldwater, a scholarship fund that recognizes distinguished students in the fields of mathematics, science, and engineering, has been bestowed on a University of New Mexico student,  Julian Vigil.
Vigil, a Chemical Engineering student, received the prestigious Goldwater Scholarship. He plans to pursue a Ph.D. in Chemical Engineering.
UNM's National & International Scholarships and Fellowships (NISF) office provides UNM students with merit-based scholarship and fellowship opportunities.
"The criteria of the Goldwater Scholarship include intellectual intensity and the potential for significant future contribution in their chosen field," says Kiyoko Nogi Simmons, manager of Scholarships and Outreach at NISF. "Julian is a great example of a successful Goldwater candidate who has been engaged in  research activities throughout his college career, understanding the implications of his research outcomes, and publishing research articles."