CBE WERC Team Wins at NMSU
May 9, 2016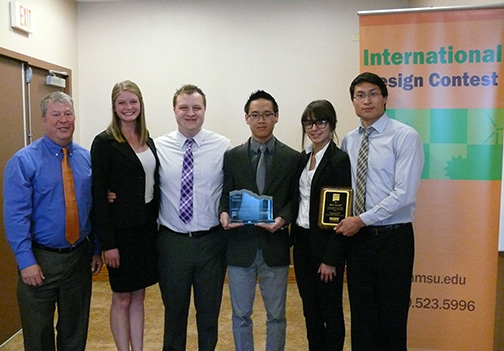 NMSU's WERC, a Consortium for Environmental Education and Technology Development hosted the 26th annual International Environmental Design Contest April 3 - 6, in Las Cruces. This design contest gives students the chance to feature their innovative designs to real-world problems.
The contest urges students to create technological solutions to environmental challenges, and merges government, private sector and academic interests. This year students chose from four different tasks – open task, haul truck tires, treatment of wastewater for reuse and environmental design-meet the Internet of things.
This year there were 19 teams from nine schools competing. Aiden E. Anderson, Alina M. Martinez, James S. Chavez, Hannah Height and Eric Sivonxay represented Chemical & Biological Engineering at UNM.  The Lobo Engineering team chose Task 3 –"The People's Water"  Treatment of Wastewater for Reuse and were presented First place - $2,500, the Peer Award - $250 each and the Intel Environmental Innovation Award – $2,500. Congratulations Aiden, Alina, James, Hannah and Eric! To learn more about Lobo Engineering thoughts on treatment of water reuse, view their brochure.