Transforming engineering education is the goal of $2 million NSF grant
July 18, 2016 - Kim Delker
Faculty from The University of New Mexico are leading a project that has the potential to revolutionize how undergraduate engineering is taught, making it more attractive to groups that are currently underrepresented in the discipline.
"FACETS: Formation of Accomplished Chemical Engineers for Transforming Society" is a 5-year, $2 million project funded by the National Science Foundation (NSF). It is led by Abhaya Datye, Sang M. Han, and Eva Chi, all from UNM's Department of Chemical and Biological Engineering, and as well as Vanessa Svihla and Sung (Pil) Kang, from UNM's Organization, Information and Learning Sciences (OILS) program. This project builds on a research initiation grant that NSF awarded last year to the team led by Datye, Svihla, and Jamie Gomez, also from chemical and biological engineering.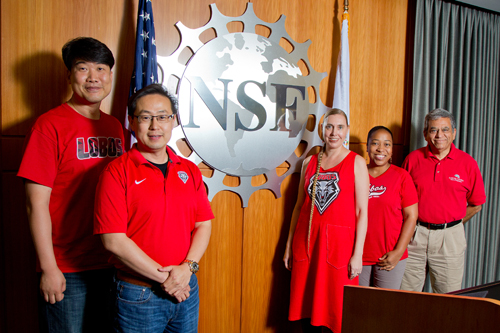 This project seeks to address the urgent need to produce more engineers who are ready to solve societal problems that include clean water, a clean environment, diverse and sustainable energy sources, and improved health care.
"In our highly technical and interconnected world, we're facing many challenges that are in need of solutions that can only come from a multifaceted approach developed by teams," Datye said. "Our goal is to show students, even freshmen, how they can get engaged in solving some of these challenges. This form of learning through practice will help motivate students to persist in the difficult core classes that engineers must complete before they graduate."
UNM received one of seven grants awarded this year and was the only chemical engineering department to receive an award this year as part of a $14 million investment by the NSF in the program called RED (Revolutionizing Engineering Departments) announced recently.
The RED program is part of the initiative called IUSE: Improving Undergraduate STEM Education, which is focused on what has been termed as the Professional Formation of Engineers. RED grants enable engineering and computer science departments to transform themselves to make engineering more attractive and inclusive to a wider group of students and to make students better prepared to tackle tomorrow's problems. Although the UNM project is focused on chemical engineering, the results will be broadly applicable to all engineering disciplines, at UNM and elsewhere, the project leaders say.
The Department of Chemical and Biological Engineering department is pursuing research in these areas, but as it is structured now, only a few undergraduate students have the opportunity to participate. This project aims to bring these challenges to the entire undergraduate class, Datye said.
Currently, engineering education emphasizes fundamental knowledge, and students do not get to practice engineering until late in the curriculum. As a result, Datye said, many students drop out because they do not make the connection between their courses and the work of engineers. To encourage the development of critical thinking and problem-solving skills, the FACETS project will teach engineering by engaging students in the solution of real-world problems.
The team will partner with industry and national labs to develop teaching modules to enable instructors to teach core engineering subjects in a team-based approach. In addition to design challenges originating from industry, from entrepreneurship and from the groundbreaking research done by faculty, the FACETS project also focuses on problems faced by the community where the students come from. The project will make use of community-based challenges, such as the Gold King Mine spill in the Animas River, which can engage the diverse students that make up UNM's freshman undergraduate class.
The project also has the goal of making engineering education more interesting to attract women, minorities, and those who are first-generation college students and lack role models in high-tech or scientific careers.
"In many engineering programs, students are making decisions about whether engineering is a good fit for them based on what they see in coursework," Svihla said. "Students who have a friend or relative who works in engineering have an advantage because they have a sense of what engineers do. Few of our students have this advantage. Our project will provide them with more opportunities to understand the work engineers do, so when they are making decisions about whether engineering is a good fit for them, it is an informed decision."
Svihla said students in New Mexico come in with a lot of interesting and diverse life experiences, which can be used to help them become engaged in engineering.
"Engineering is fundamentally about solving human problems, so these experiences are actually highly relevant," she said. "One of the goals of this project is to help our students connect their existing interests and experiences to engineering, and to help faculty teach using these facets of their identities."
Chi said that often students have good reasons for wanting to go into engineering, but it's those first years where students lose interest.
"When students are taking these hard undergraduate courses, it's difficult to keep them engaged. They have a difficult time getting going, and they are much more likely to drop out," said Eva Chi, a co-principal investigator and director of undergraduate programs in chemical and biological engineering. "But there's a whole different level of involvement when they're working on a problem they're truly interested in."
Han is hopeful that the project will lead to an increase in student retention.
"The community-based engineering challenges are expected draw in civic-minded engineering students to our program, while retaining their interest," he said.
Kang said the project will provide an experience for students that is centered around the learner and relatable situations.
"This approach will nurture students having creative problem-solving skills and knowledge in various real-world situation so that students can work effectively when they are in work and advanced study settings," he said. "Not only do I hope that this project makes positive impact and changes on the chemical and biological engineering department at UNM, but it will also offer innovative ideas and promises for higher education reform nationally and internationally."
NSF shared more about the projects on Tumblr and on Twitter.
ABOVE:
UNM's RED team recently visited the National Science Foundation. (From left): Sung (Pil) Kang, Sang M. Han, Vanessa Svihla, Jamie Gomez and Abhaya Datye.