UNM I-Corps pumps out marketable products
March 19, 2018 - Kevin Robinson-Avila, Albuquerque Journal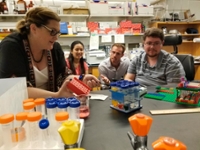 Nearly two dozen new homegrown technologies are taking their first solid steps to market through the University of New Mexico's new I-Corps program.
UNM's Lobo Rainforest building at the Innovate ABQ research and development site Downtown became an official National Science Foundation Innovation Corps site last summer. The designation came with a $440,000 grant to finance scores of student-led teams in building commercialization strategies for emerging technologies over a five-year period.
Since the fall, 20 teams have entered the program with innovative ideas for new products and services either developed at UNM laboratories or conceived by students themselves. That includes 10 teams from the I-Corps' first cohort last fall, plus 10 more that just started the program through a spring cohort that launched this month.
Of the 10 fall-cohort graduates, eight are now pursuing $50,000 NSF grants to continue marketing their ideas, said UNM Innovation Academy Executive Director Rob DelCampo.
"They're working to bring a wide range of products forward, some of which have huge potential," DelCampo said. "These are not 'pie-in-the-sky' ideas. They're things that can change people's lives."
The technologies include breakthrough science, such as a potential vaccine for Alzheimer's disease, plus a new method for early detection of neuro-degenerative illnesses like Alzheimer's and Parkinson's.
A broad range of more simple, innovative ideas abound as well, such as new designs for wheelchairs to help disabled individuals take showers, and a novel concept that allows colonoscopy patients to consume boba-tea-like gel capsules dissolved in water to prepare for exams rather than consume liters of foul-tasting liquid.
"The Alzheimer's vaccine is actually ready for testing, and it has world-changing potential," DelCampo said. "But on the smaller scale, many of these technologies could fundamentally improve people's lives, such as the new designs for wheelchairs."
Every team accepted into the program receives a $3,400 grant to begin initial steps to commercialize their products. They receive business mentoring and training while conducting intense market research and development over a three-month period.
At the end of the semester, those that show market viability for new innovations while also demonstrating the business acumen needed to move forward become eligible to apply for NSF grants of up to $50,000 to continue their work.
All of the 10 teams in the fall cohort received a green light to pursue those grants after presenting their ideas to a panel of judges at the end of the three-month program, DelCampo said. Eight are now seeking funding, but all plan to continue their commercialization efforts.
Each team includes one or more students, plus a business mentor and an "academic lead" to advise students. Many of the faculty participants are directly involved in the research on emerging technologies.
Biology professor David Hanson, for example, is working with materials-science graduate student Kaitlyn Read and doctoral candidate Tim Aston to commercialize a new process for electro-measurement of plant and crop health using micro-needles developed at Sandia National Laboratories. Hanson is part of a joint project with Sandia that received $2.4 million from the U.S. Department of Energy to adapt the micro needles into sensors for plants and crops.
"We're looking at creating one or two companies to use electric-conductivity methods to improve both indoor and outdoor plant growth and crop production by measuring plant health to adjust environmental conditions," Hanson said. "It's the first time I'm doing this. I've worked with industry before to help with products, but never on my own."
The team is learning to make a business out of laboratory research.
"This gets us pointed in the right direction in a short time period so we're not just spinning our wheels," Aston said. "We're learning by doing."
One faculty member, chemical and biological engineering professor Heather Canavan, has practically converted her lab into a center for student innovation that seeks to improve medical diagnostics and treatment for professionals while easing problems for patients living with diseases. She formed a new company, Adaptive Biomedical Design, together with biomedical engineering graduate student Phuong Nguyen that works as a think tank and consulting firm for new, innovative ideas.
Nguyen, whose sister runs a sandwich shop in Albuquerque, came up with the boba-tea-like gel capsules to make colonoscopy preparation more comfortable for patients. She participated in the fall I-Corps' cohort, turning that idea into a new product called Bubble Light.
"It can make the whole patient experience better," Nguyen said. "We hope to sell it to doctors, clinics and pharmacies."
Bubble Light is one of seven innovative ideas to come out of Canavan's ABD project. All of them are now connected to the I-Corps program, including three that students pursued in the fall cohort: Bubble Light, the new wheelchair design for showers, and a foot-mat sensing device to to detect ulcers in diabetics' feet. Another four are now enrolled in the spring cohort, including additional wheelchair design features that will include things like built-in cup holders, a specialized rack for blood vials to make blood-testing and processing easier for medical professionals, a new triage system for emergency rooms and urgent care, and a fresh twist on the Bubble Light concept to replenish depleted bacteria in people's digestive systems.
During the five-year life of the NSF grant, more than 100 student teams are expected to participate in the I-Corps program.