2019 Balloon Pitch Winner Is…
October 18, 2019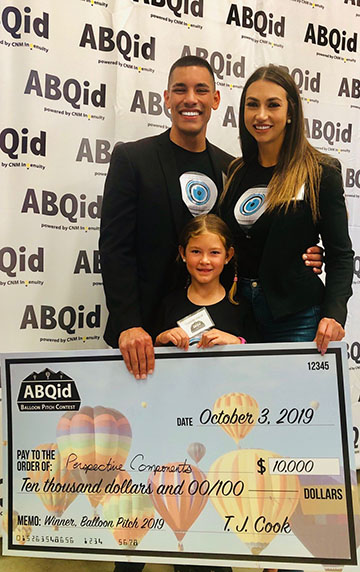 ABQid Balloon Pitch 2019 brings together NM startup companies and an esteemed panel of investor judges from in- and out-of-state for a world-class pitch event in Albuquerque, New Mexico. On Thursday, October 3, eight New Mexico-based startups had 10 minutes (5 min pitch + Q&A) to pitch their company in front of judges at Vara Wines. Judges then deliberated which company's pitch represents the highest growth potential. Over a locally catered lunch, judges awarded a $10,000 cash prize to Perspective Components co-founder and CEO Erik Strobert, as well as a hot air balloon ride in the first mass ascension at the 2019 Balloon Fiesta. Strobert, a 2017 Cum Laude graduate in Chemical & Biological Engineering and currently finishing up his Masters in Chemical Engineering, has had a passion for building things since he played with Legos as a kid. He's motivated to make a career from that passion.
In Strobert's own words "I founded Perspective Components Inc. because I was frustrated that although I spend $1000 on my smartphone, my photos and videos still came out with poor quality. Our team set out designing the world's smallest gimbal camera system, which was initially intended to be integrated directly into smartphones. While smartphone integration is still a goal of the company, we intend to bring our technology system (integrated hardware, firmware, and software) to market initially via completely compact smartphone accessories and light weight drones. We anticipate future operations in multiple industries, including smartphones, drones, self driving cars, and robotics."
Strobert launched the company in November 2017 when starting graduate school. His team of mechanical, electrical and software engineering colleagues worked for nearly two years to prototype the system, integrating novel hardware and software. "We created the world's smallest gimble," Strobert said. "It's smaller than anything on the market today and made to work with a handheld system. It provides the same quality performance of much larger, traditional gimbals."
"In essence, it's a motorized positioning system for a camera to remain stable when moving while allowing for precise manipulation to move the camera however one pleases," Strobert said. "Our goal is to continue reducing it to integrate it directly into smartphones and add on camera accessories for users with a full suite of software features. We also want to create lightweight gimbles for drones, which would improve their efficiency because the heaviest part of drone camera systems are the gimbles."
The company hopes to eventually build small gimble systems for satellites as well.