Datye Presents 2019 Walter J. Weber Distinguished Lecture
October 17, 2019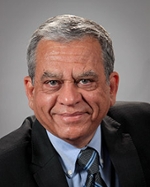 Abhaya Datye, Distinguished Regents' Professor and Chair, Department of Chemical & Biological Engineering was awarded the 2019 Walter J. Weber Distinguished Lecture in Environmental and Energy Sustainability at the University of Michigan on October 17. Datye's lecture, "Designing Catalysts for Meeting the DOE 150°C Challenge for Exhaust Emissions" continued the lecture series that brings one of the world's foremost experts in environmental engineering and science to the University of Michigan each year to share the results of their work and their vision for the future.
Datye received his Ph.D. in 1984 in chemical engineering from the University of Michigan, working with Johannes Schwank.
This seminar is made possible through the endowment to the University by the 1996 Athalie Richardson Irvine Clark Prize awarded to Professor Walter J. Weber, Jr., Ph.D., P.E., D.E.E., by the National water Research Institute for Outstanding Accomplishments in Water Science and Technology
During his 46-year career at the University of Michigan, Dr. Weber made numerous significant contributions to the field of environmental engineering as a scientist, educator and mentor. In 2008, he was chosen as one of the "One Hundred Engineers of the Modern Era" by the American Institute of Chemical Engineers in honor of his many career accomplishments. Dr. Weber became an emeritus professor in May 2009.