Engineering undergrad research advocates energy security
March 2, 2020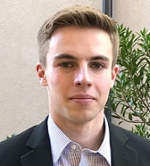 An undergraduate from The University of New Mexico is traveling to Washington D.C. to present his research on energy storage.
"Climate change and energy security are some of the greatest challenges of our generation." – David Arnot, UNM student researcher
David Arnot, a junior from Albuquerque, was selected to showcase his research at , an annual undergraduate poster session on Capitol Hill.
The 24th Annual Posters on the Hill event will be held in Washington D.C. on April 20-21. Arnot is one of 60 presenters selected from more than 350 competitive applications. His poster is titled "Development of Alkaline Zn/MnO2 Batteries for Grid Energy Storage."
"I am excited to attend the Posters on the Hill event to share my research on grid energy storage in Washington, D.C.," he said. "Research related to renewable energy will be key to overcoming these problems. I also think that it is important to highlight the benefits of undergraduate research when developing solutions to global issues like climate change."
Arnot, a Regents Scholarship recipient, is an Honors College student pursing a degree in chemical engineering. He has been working at Sandia National Labs since the beginning of 2018 and has been involved in several research projects related to electrochemical energy storage as a Research and Development intern.
In addition, Arnot is the President of the American Institute of Chemical Engineers student chapter at UNM and a member of the Tau Beta Pi engineering honor society. He plans to pursue a PhD in chemical engineering and lead a research group focusing on energy conversion and storage technologies.
His mentors at UNM are Jeffrey Rack, Andrew Shreve and Jamie Gomez.