Improving inhalers and hospital navigation winning ideas at CTSC Health Hackathon
Improving inhalers and hospital navigation winning ideas at CTSC Health Hackathon
March 2, 2020 - Kim Delker
Seven teams. Three days. Unlimited potential.
Participants ranging from undergraduate engineering students to local entrepreneurs competed in the second CTSC Health Hackathon, held Feb. 21-23 at the Domenici Center for Health Sciences Education North Wing at The University of New Mexico.
The event was presented by the UNM Clinical and Translational Science Center and supported by the ASCEND Program, STC.UNM, and the Center for Innovation in Health and Education. Sponsors included the School of Engineering, the College of Pharmacy and the College of Nursing.
This year's Hackathon attracted more than 80 registrants, who first came Friday evening for an overview of the Hackathon process, including a primer in intellectual property and advice on how to pitch an idea. Participants then pitched their ideas, formed teams and devised a plan for the rest of the weekend. While some team members previously knew each other, other teams formed on the spot, making the competition even more challenging.
On hand for the event were technical mentors from UNM and Sandia National Laboratories, who assisted with 3D printing and provided technical consultation, as well as pitching and marketing mentors, who offered assistance with how to market and sell an idea to judges.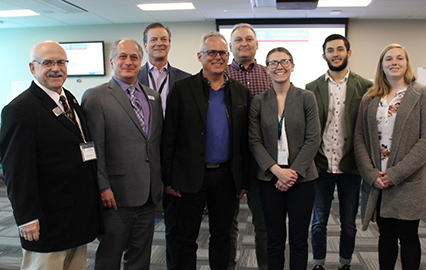 Members of the winning teams pose with judges
One of this year's winning ideas was an asthma smart inhaler device that attaches to a traditional spacer to provide improved medication to the patient based on the spacing between multiple puffs. The device uses red or green LED lights to indicate to the user when the next dose is ready. It also includes a spirometer — a device that will measure the amount of air expired or inhaled by the patient during inhaler use. This new device would improve the efficacy and drug delivery of critical inhaled medication, especially for geriatric and pediatric patients.
"Nothing on the market currently combines a spirometer with a spacer," said team lead Amelia Bierle. "We're combining the two for a device that uses GPS navigation to send real-time data back to the patient and to the doctor."
Other members of the team were Christian Slough, a graduate student in the Anderson School of Management; Samuel Greenblatt, Michael McDonald, Paul Szauter, and mentor Pavan Muttil, associate professor of pharmaceutical sciences at UNM.
The other winning idea was IndoorNav Systems, a software-based system that uses QR codes to help visitors navigate their way around a hospital. Team members were D.M. Raisul Ahsan, a student in computer science; Adam Brechtel; Loic Djamen, a graduate student in electrical and computer engineering; and Sandesh Timilsina, a senior in computer science.
The seven teams pitched their ideas to a panel of judges on the final day, competing for a chance to apply for grants from the Clinical and Translational Science Center of up to $10,000 to help bring their ideas to life.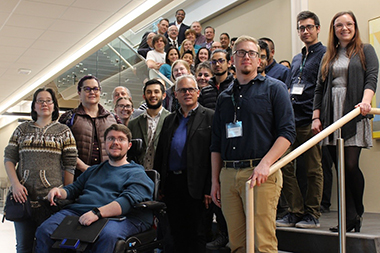 Participants of the CTSC Hackathon
Heather Canavan, a professor in the Department of Chemical and Biological Engineering, was part of a winning team at the last Hackathon. This year, she joined a team led by UNM biomedical engineering postdoctoral fellow Tye Martin to devise a way to improve elevator accessibility for those in motorized wheelchairs. Reaching and pressing an elevator button can be difficult for millions of motorized wheelchair users. Their team, with a product called ELEV8R, created a remote-controlled robotic arm and app that can be voice-activated to provide affordable, universal elevator access.
Canavan, who has done a lot of work in the area of assistive devices, said the idea was presented by its team leader, Martin, who himself is a wheelchair user who has experienced challenges with using elevators. Then, the direction the solution took was dictated by the strengths of the members who joined their team.
"Our team includes students from computer science, chemical and biological engineering, electrical engineering, and pathology," she said. "I'm amazed at how cross-disciplinary it is, as well as the speed at which the idea came together."
Other teams presented ideas or products that included an improved cancer vaccine; a simple and inexpensive breath test for liver disease; a machine-learning solution to improve accuracy and efficiency in brain imaging; and a software database solution for caretakers of the developmentally disabled to help them better organize and chart various details like appointments, medications, and tasks.
Teams were judged on both the content of their presentation as well as the quality and clarity of the presentation.
Judges for this year were Heidi Chapman, business development, Virtici, and ASCEND program manager; John Chavez, president of the New Mexico Angels; Eric Prossnitz, ASCEND academic lead; Stacy Sacco, lecturer in the Anderson School of Management and director of the UNM Small Business Institute; and Mathis Shinnick, CEO of OptiPulse Inc.