Wei receives the ORAU Ralph E. Powe Award
December 15, 2020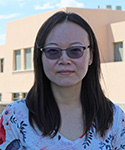 Professor Shuya Wei was selected to receive a competitive ORAU Ralph E. Powe Junior Faculty Enhancement Award, which is designed to help ORAU member institutions retain their best young faculty members. This award will provide seed funding for the project entitled, Developing rechargeable Al-CO2 batteries for electrical energy storage and carbon capture, which focuses on development of novel rechargeable Al-CO2 batteries and understanding the electrochemical reaction mechanism of CO2 to products in the batteries. The long-term goal of this research is to utilize CO2 in electrochemical energy storage devices for both large-scale energy storage and  net reduction of CO2 emissions.
ORAU's commitment to enriching the research skills and professional growth of young faculty members at ORAU member institutions is embodied in the Ralph E. Powe Junior Faculty Enhancement Awards Program. These competitive research awards provide seed money for junior faculty members that often result in additional funding from other sources. The award amount provided by ORAU is $5,000.
Eligibility for the Powe Awards is open to full-time assistant professors at ORAU member institutions within two years of their tenure track appointment at the time of application.
Research projects must fall within one of these five disciplines:
Engineering and Applied Science
Life Sciences
Mathematics/Computer Sciences
Physical Sciences
Policy, Management, or Education