Sang M. Han finds the right chemistry as new leader of his department
August 25, 2022 - by Kim Delker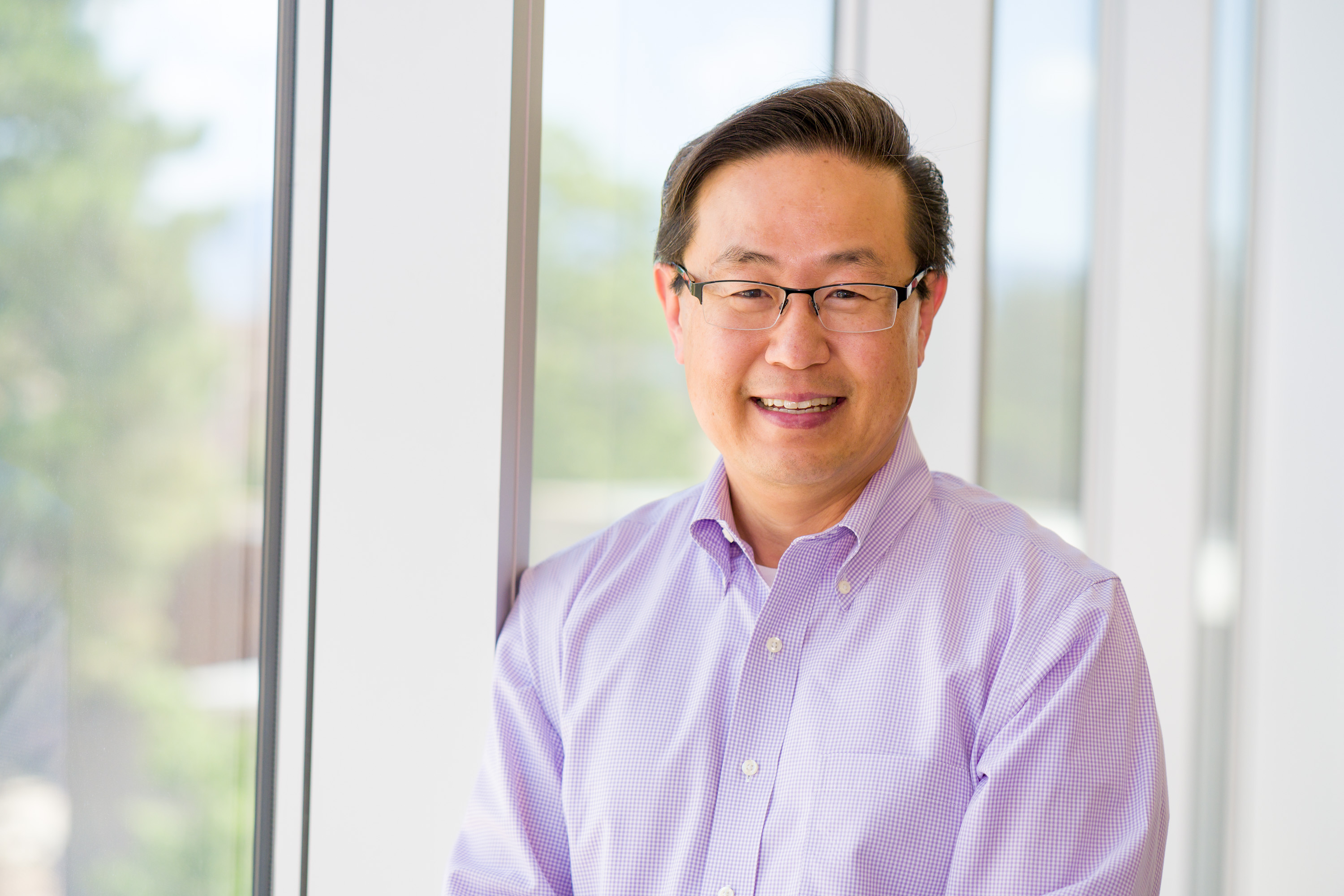 After more than two decades as a faculty member at UNM, Sang M. Han is taking on a new role as chair of the Department of Chemical and Biological Engineering.
Since 2000, he has been a faculty member in the department, joining after a brief stint in the private sector. His primary areas of research are materials engineering for solar photovoltaic (PV) reliability, instability-driven semiconductor quantum materials engineering, and random photonics for structural color rendition and radiative cooling.
A native of South Korea, some members of his family came to the U.S. in the 1960s, with his immediate family settling in Southern California in 1985. As a teen, he tried hard to assimilate to American culture. He wanted to shed the things that made him stand out from classmates, especially his accent. To do this, Han employed a bold yet effective tactic.
"My high school had a speech therapist, so I started going to her to learn a more American speech pattern," he said. "It really helped me, but after a while, she told me, 'You know, this service is not really intended for this purpose,' so I had to stop going."
After high school, Han was accepted into Harvey Mudd, a prestigious private college, but instead chose to attend University of California, Berkeley. He earned his bachelor's in chemical engineering from there in 1993.
He then decided to join a company in thriving Silicon Valley, working briefly as a process engineer for Lam Research, a semiconductor company. The entry-level experience helped him realize that he wanted to continue more intellectual pursuits with a graduate degree. He then enrolled in the University of California, Santa Barbara, earning his Ph.D. in 1998.
After graduating, he rejoined Lam until he found a faculty position, which happened to be at The University of New Mexico. Having lived in bustling California and working in the private sector, he experienced cultural shift, he said.
One way that Han has stayed connected to the high-energy world of industry is by becoming an entrepreneur himself. Since 2016, he has been chief technology officer of the startup Osazda Energy LLC, a company that generated out of his research on advanced metallization technologies. The name "Osazda" means "sun" in a Native American dialect. Osazda's technology increases the durability of solar cells against stress-induced cracks, which can translate into more revenue for utility-scale photovoltaic farms, lower cost of electricity for consumers, and lower insurance rates on product warranties that module manufacturers provide. In 2018, he was named the STC.UNM (now UNM Rainforest Innovation) Innovation Fellow for commercializing this technology.
In addition to research and teaching at UNM, he has had a variety of leadership roles. Since 2014, he was associate chair of the department and directed the Nanoscience and Microsystems Engineering Program. From 2015-18, he held the title of Regents Professor.
Han said that he is not attracted to leadership positions for power. Instead, he sees the opportunity to give back to the academic community.
"I always consider it a service position," he said. "I want to help colleagues and raise the profile of our department nationally."
He realizes he has big shoes to fill, succeeding Abhaya Datye, who has led the department since 2014.
"I want to recognize what Abhaya has done for the department. He is very well-connected and respected in his field of catalysis, so our department received much national visibility due to that," he said.
As chair for the next four years, Han has three main goals.
"First, I want to focus on enrollment growth. I know it is not a panacea, but I want to understand effective ways to increase enrollment as well as retain our current students. We currently lose a substantial number between the first and second year," he said.
Second, he wants to make sure the department is well-prepared for the next ABET evaluation, which takes place in 2023. And finally, he wants to make sure early career faculty have the support they need to make it through the tenure process and beyond.
In addition, he is interested in the department branching out into additional research in sustainable water resource management, renewable energy and energy storage. Han also sees an opportunity to programmatically grow in biological engineering direction. He is excited about working with the Formula SAE LOBOMotorsports program, which has recently transitioned to building an electric vehicle as a race car for competition.
In his free time, Han enjoys learning electric blues and ballroom dancing. He enjoys spending time with his family, his fiancée Katie and his two sons, who are 20 and 18. He is very proud of his older son starting at UNM this fall, studying film production, and his younger son, who will be graduating from La Cueva High School next spring.