Chemical engineering alum defends Ph.D. thesis in materials science at Georgia Tech
Chemical engineering alum defends Ph.D. thesis in materials science at Georgia Tech
March 23, 2023 - by Kim Delker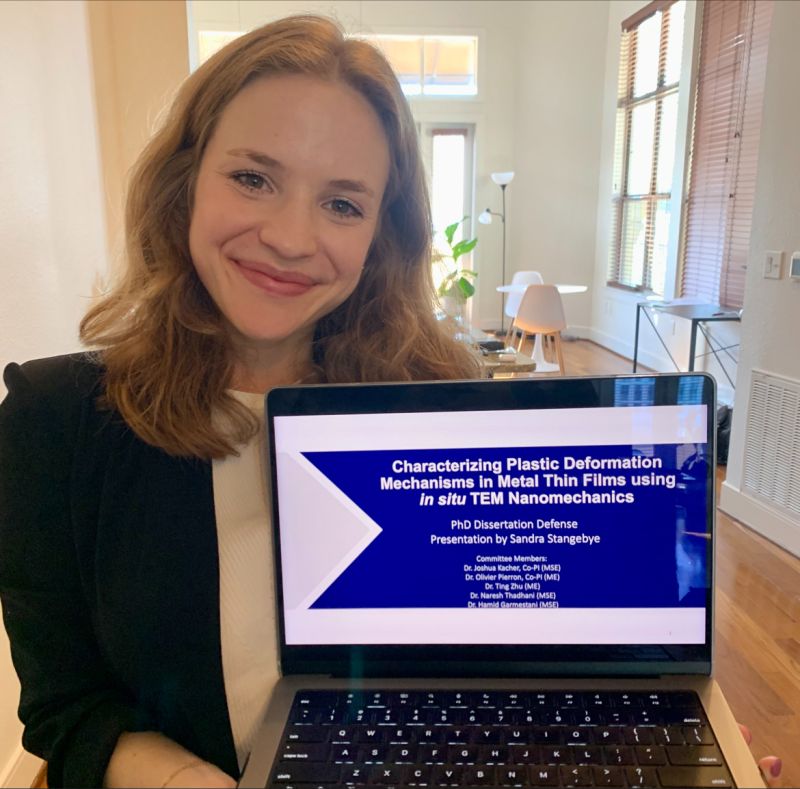 Sandra Stangbye, who earned a bachelor's degree in chemical engineering from UNM in 2018, has successfully defended her Ph.D. thesis in materials science at Georgia Tech.
Her thesis is titled "Characterizing Plastic Deformation Mechanisms in Metal Thin Films using in situ TEM Nanomechanics." Her research is in transmission electron microscopy used to understand the structural performance and reliability of materials, as well as microfabrication, thin film deposition, MEMS testing and development, and materials characterization.
She is currently a senior product process engineer at Raytheon Technologies in Dallas. She was also a Department of Energy National Nuclear Security Administration Stewardship Science Graduate Fellow at Georgia Tech.
While a student at UNM, she was involved in the Society of Women Engineers and Tau Beta Pi engineering honor society. She also interned at Sandia National Laboratories and was a visiting researcher at Sandia in 2021.