UNM civil engineer attends transportation meeting with federal officials in Albuquerque
UNM civil engineer attends transportation meeting with federal officials in Albuquerque
April 6, 2023 - by Kim Delker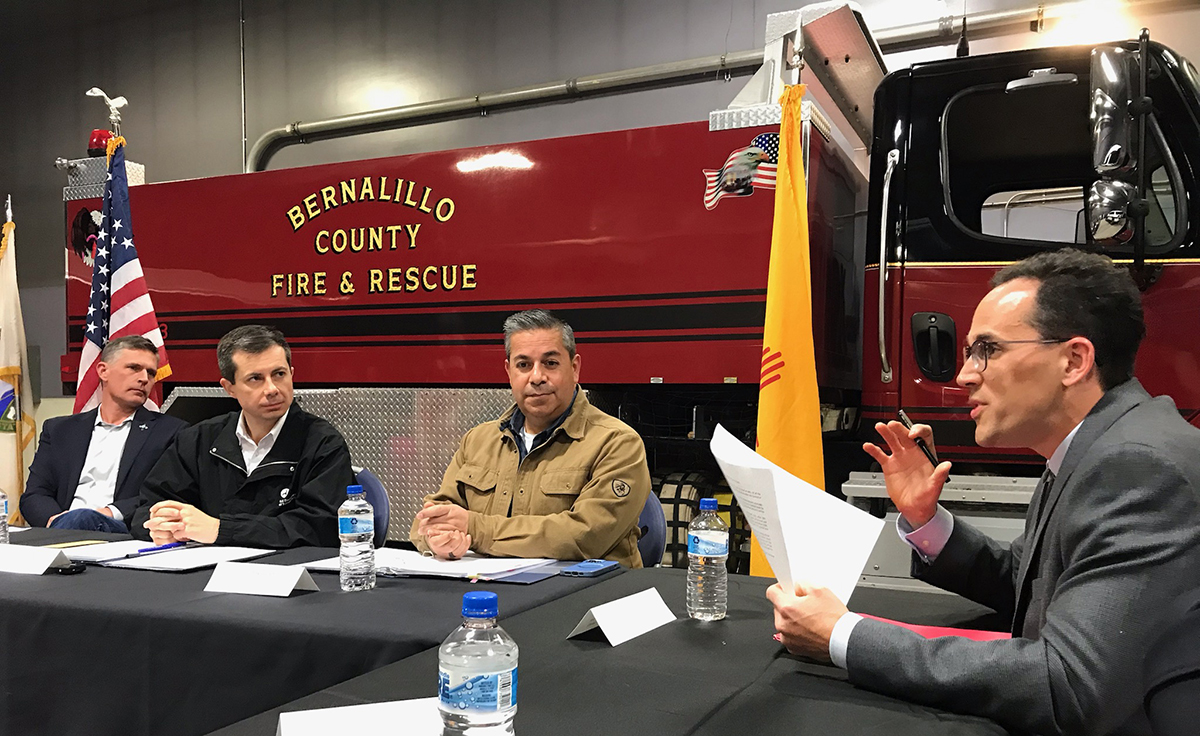 Nick Ferenchak (right) presents April 4 to Sen. Martin Heinrich (left), Secretary of Transportation Pete Buttigieg and Sen. Ben Ray Lujan.
A University of New Mexico School of Engineering researcher who is leading a new center focused on pedestrian safety participated in a meeting April 4 in Albuquerque with federal officials, including Secretary of Transportation Pete Buttigieg and U.S. Sen. Martin Heinrich.
Nicholas Ferenchak, an assistant professor in the Department of Civil, Construction and Environmental Engineering, is leading the Center for Pedestrian and Bicyclist Safety at UNM, which is a University Transportation Center funded by the Department of Transportation. The center will receive $10 million over five years. It is focused on solutions and technology to improve pedestrian and cyclist safety. New Mexico has the highest number of pedestrian deaths in the nation, Albuquerque has the second-highest pedestrian fatality rate of any city in the country, and New Mexico is in the top five for bicyclist fatalities.
Ferenchak was invited to the meeting, arranged by Sen. Heinrich's office, to discuss pedestrian safety issues and solutions. The meeting took place at a fire station in Albuquerque to highlight the first responders who must respond to pedestrian crashes. Other officials in attendance were U.S. Sen. Ben Ray Lujan, U.S. Rep. Melanie Stansbury and Albuquerque Mayor Tim Keller.
The meeting was convened in Albuquerque to highlight the Department of Transportation recently awarding a $6.3 million Safe Streets for All grant to provide safety upgrades for projects around the nation, including a section of Coors Boulevard in Albuquerque's South Valley, where there have been at least six pedestrian fatalities in the last year. Some of the team toured the project, where a section of Coors will have protected bike lanes and pedestrian walking paths.
At the meeting, Ferenchak said that the Coors project is good example of how to improve safety on arterial roadways, where three-quarters of all pedestrian fatalities occur. Another example he cited was Central Avenue, which is a key east-west corridor through the heart of the city. He said that of all the pedestrians struck in New Mexico, about a quarter are along either the Central or Coors corridors. However, the Albuquerque Rapid Transit (ART) project installed a few years ago on Central resulted in a decline in serious pedestrian injuries and a 65% drop in fatalities, mostly due to reducing vehicle lanes and prohibiting left turns.
"We need to focus on large, fast roads," he said. "We need to fundamentally rethink our arterials, making them more multimodal."
The Center for Pedestrian and Bicyclist Safety was among 34 University Transportation Centers to receive up to $435 million in grants, which was announced earlier this year by Buttigieg. The projects are funded by President Biden's infrastructure package, which included $90 million in funding a year.